Shockwave football game online games flash fun free games
See if you've got the goods to win it all in the Supreme Bowl! Play this Two Minute Football X Championship Season.

TwoMinuteFootball.com is official site for all 2 Minute Football games. 2 Minutes Football is a free online football game anyone can play. It requires the shockwave plug-in.

Some of you may have noticed that Chrome has dropped support for the shockwave plugin and others will soon. We are in the process of considering a few things so you can still play 2MF. One would be a MAC/PC version. If this would be of interest to you would you take the time to send us a note here? Thanks for your support!


Copyright 2013 RMW Media Integration. All Rights Reserved.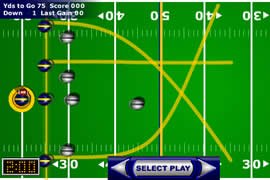 Play the version that started it all!
Two Minute Football Classic, still a classic in it's own right, give it shot and see whether you've got old school game.